Library Quarterly Covers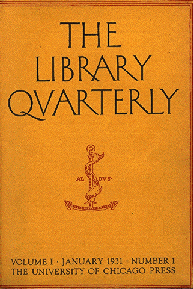 Every issue of LQ, starting with the first one in 1931 until January 2013, has a cover design based on a printer's mark, and an essay about the design and history of that pressmark. Commencing in January 2013, the printerís mark appears inside the issue.† This Web page presents a database of information about these covers. In a few cases, contributors have duplicated covers, but for the most part the cover design only appears once.
You can sort the data by clicking on any column heading; you can resize columns by dragging on the vertical bars between headings; you can search for values in any single column. The columns are:
Year of publication in LQ

Information about the images in the pressmark

Press (or publisher)

Printer

Dates of printer's birth and death, or years flourished

City of printing

Country of printing

LQ Volume number

LQ Quarter within the volume

Author of LQ essay

Picture availability. If "Yes" appears, then you can click on that entry to see a photograph of the cover in a separate window.
Last Update: 27 June 2013; thanks RP and Karen Marie Kettnich